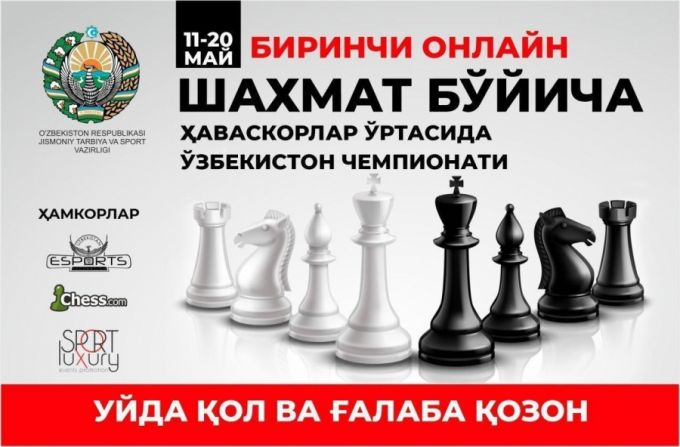 The tournament is set online, in the Swiss system, depending on the number of participants on the Chess.com gaming platform and will be announced later.
Time control: (3 + 1) All participants are given 3 minutes + 1 second for each walk until the end of the game. Chess fans – citizens of the Republic of Uzbekistan can take part in the tournament. Specify FIDE ID and FIDE ELO rating.
FIDE ELO participant rating should not exceed 2200. In order to participate in the tournament, you must be a member of the chess club "Ministry of Physical Culture and Sports of the Republic of Uzbekistan" on the game website chess.com.
However, each participant in the tournament must have an official login on chess.com that matches their first and last name.
Important note: the first 1000 (thousand) registered participants will be eligible to participate in the competition (related to the established limit of partner platforms).
FIDE ID – FIDE code is a player's permanent personal number (ID) and its identifier does not change, regardless of which tournament (classic, rapid, blitz).
FIDE ELO – ELO rating ELO rating system, ELO coefficient – a method of calculating the relative strength of players in games in which two players participate (for example, segi, go or chess).
Dear participants of the competition! In order to widely cover the online chess tournament in the media, especially on TV, we ask you to send photos and videos of your participation in the tournament at home via telegram messenger to the following number: +99893 394-54-86
Link:
https://olamsport.com/uz/news/40840
Source: minsport.uz